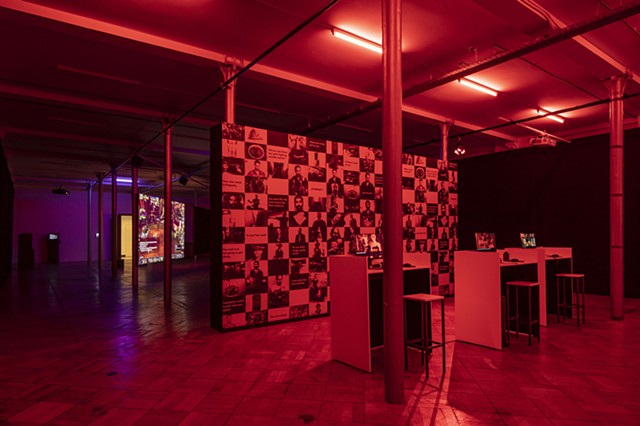 Angela Washko, Point of View exhibition, STUK (Leuven, Belgium)
*photo courtesy of Kristof Vrancken
As a politically-engaged feminist media artist working in a variety of forms, Angela Washko is committed to telling complex and unconventional stories about the media we consume from unusual perspectives. Washko's practice spans documentary film, interventions in mainstream media, performance art in virtual environments, net art, video art, and video games. Angela Washko is a 2023 recipient of the United States Artist Fellowship.
She is currently Associate Professor of Art at Carnegie Mellon University and is additionally a core faculty member for the MFA program.
News
Workhorse Queen: TV Broadcast & Streaming on STARZ
Workhorse Queen: VOD - Amazon Prime, Apple TV, Google Play, VUDU
United States Artist Fellowship: Awardee, Media
Worldbuilding - Curated by Hans Ulrich Obrist, Centre Pompidou Metz (Metz, France)
Intangible Care: CIVA Festival - Belvedere 21 Museum (Vienna, Austria)
Insights - Walker Art Center (Minneapolis, Minnesota)
Shouldn't You Be Working?, MSU Broad Art Museum (East Lansing, MI)
At Play - Center for the Arts at Northeastern University (Boston, MA)
Creative Capital Awardee: Mother, Player (in-progress)