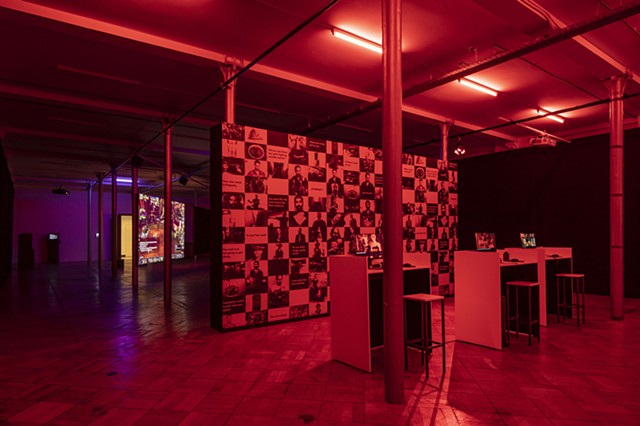 Angela Washko, Point of View exhibition, STUK (Leuven, Belgium)
*photo courtesy of Kristof Vrancken
As a politically-engaged feminist media artist working in a variety of forms, Angela Washko is committed to telling complex and unconventional stories about the media we consume from unusual perspectives. Washko's practice spans interventions in mainstream media, performance art, digital works, video art and video games.
She is currently Associate Professor of Art at Carnegie Mellon University and is additionally a core faculty member for the MFA program.
News
- Creative Capital Award 2020
- Slamdance Film Festival premieres Workhorse Queen
- "Point of View" at STUK in Belgium (European Solo Survey Exhibition)
- The Nation highlights The Game: The Game in collab with Eyebeam
- National Endowment for the Arts Grant for Fail-Safe
- Women and Hollywood interview
Upcoming/Current Exhibitions
- Point of View, STUK Center for Dance, Image, and Sound (Leuven, Belgium)
- Slamdance Film Festival (Salt Lake City, UT)
- Florida Film Festival (Maitland, FL)
- Calgary Underground Film Festival (Calgary, Canada)
- AGLIFF: All Genders, Lifestyles, and Identities Film Festival (Austin, TX)
- BOY BOX, Elizabeth Foundation for the Arts Project Space (New York, NY)
- More film festivals TBA!
Recent & Upcoming Talks
- And& Conference (Leuven, Belgium) - keynote speaker
- Visiting Artist Lecture Series, Tyler School of Art (Philadelphia, PA)
- Visiting Artist Lecture Series, University of Chicago (Chicago, IL)
- Visiting Artist Lecture Series, California State University Fullerton (Fullerton, CA)
- Game Changers, Moore College of Art and Design (Philadelphia, PA) - panel